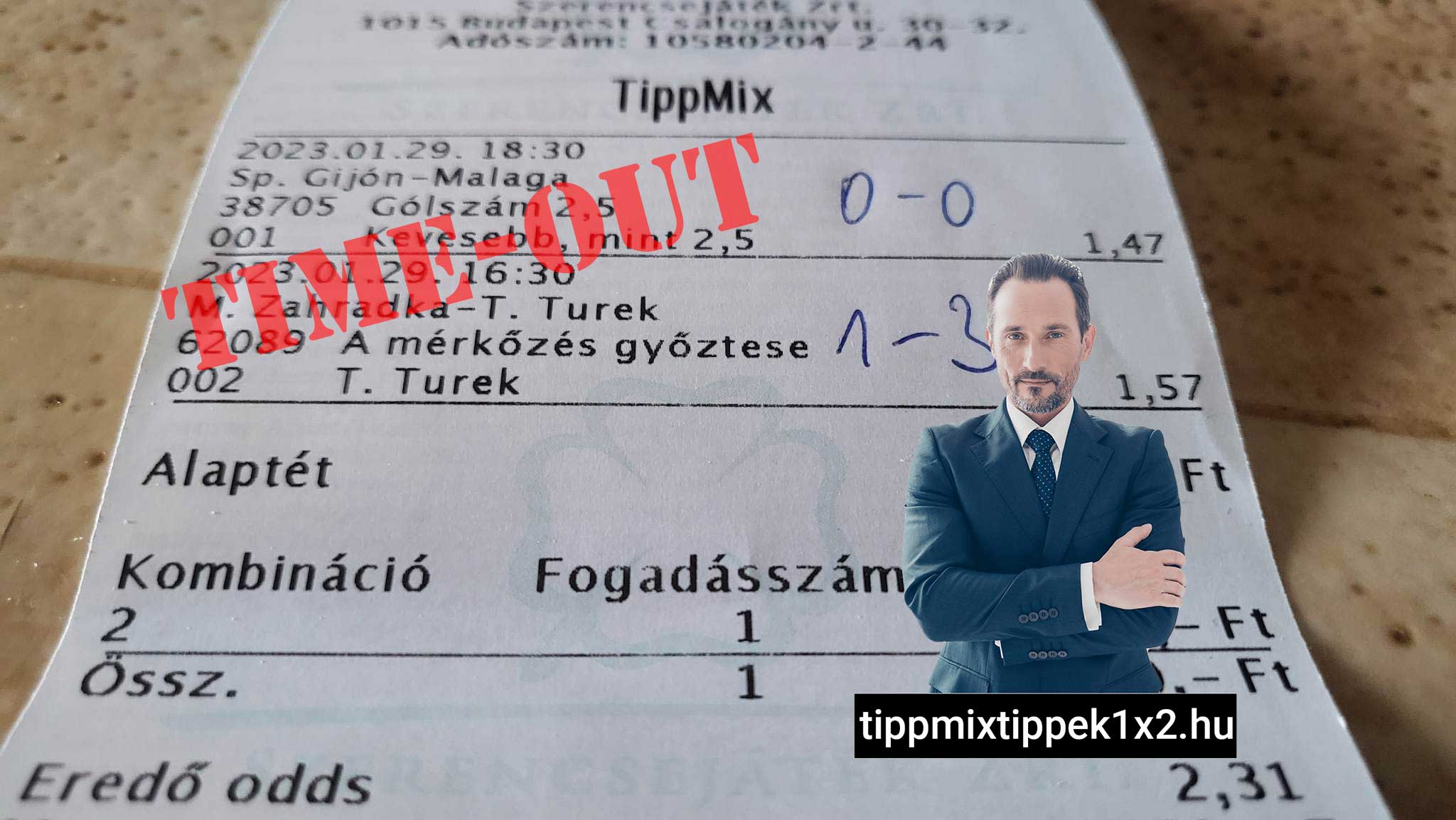 The Time – Out betting tips were at their peak yesterday as well, so the end result could not be other than another flawless Tippmix section idea. The football tip, as the Premium members were already used to, was once again very smooth. To be honest, the 0:0 final result was not something nail-biting, but we don't work for excitement, but for prizes. You didn't even have to chew your nails with the betting tip for table tennis. Although Zahradka stole a set and after two games the score was 1:1, Turek quickly realized the paper form and enforced it. However, there was a little joy in our joy, because by the time we got to the lottery, Malaga's multiplier had decreased a little. The result of our section thus changed from the expected 2.37 to 2.31. Of course, the main thing is that we managed to catch a fat double again. 
Here is yesterday's Time – Out coupon idea:
▶ 38705 H | Sp. Gijón – Malaga | Less than 2.5 (Goal number 2.5) | 1.51 0-0 ✅
▶ 62089 V | M. Zahradka – T. Turek | T. Turek (Winner of the match) | 1.57 1-3 ✅
▶ ▶ ▶ Result: 2.37 ✅ ✅ ✅
Don't leave it to chance!
With 32 years of experience behind me, I think I can rightly say that: Sports betting is much easier with us!
Look at the potential of betting tips from a completely new perspective! Sports betting, if done right, is far from gambling, but rather a short-term investment, just like a day trade on the stock market! 
Forget your favorite soccer team and look at the options and events offered as a market! Our experts find the underrated teams, so you can profit with their betting tips!
We don't believe in luck! 
We believe in hard and persistent work!
Join us now for real Premium betting tips and coupon ideas!