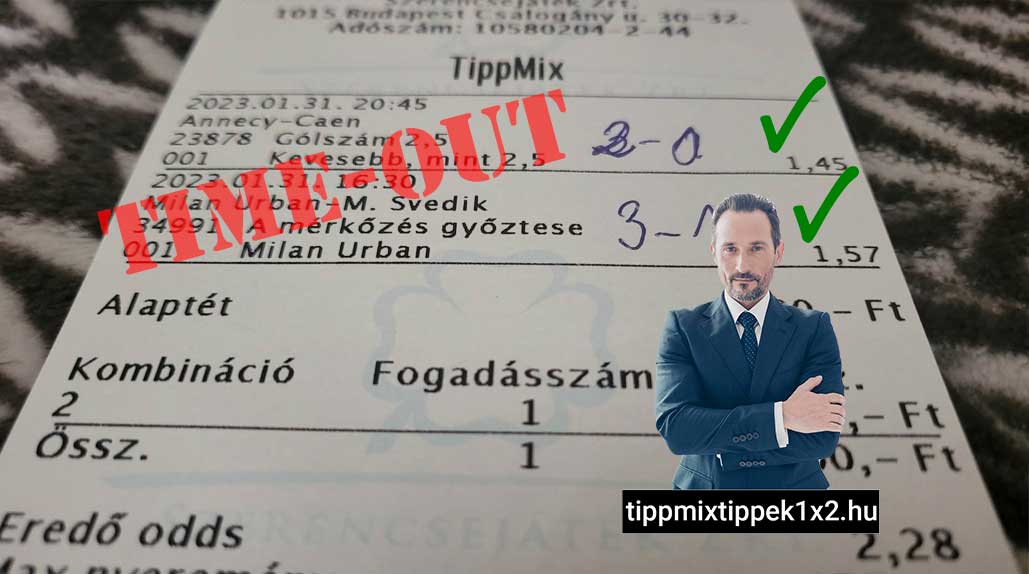 ⏰ TIME – OUT:
We ended the month with a stylishly winning ticket idea in the Time-Out Premium group as well. We expected few goals in the Annecy match. This betting tip also went down well, as only 2 goals were scored in the meeting. We didn't even have to worry about the table tennis tip, as Milan Urban lost 1 set and confidently won 3:1.
Here is yesterday's Time – Out coupon idea:
▶ 23878 H | Annecy – Caen | Less than 2.5 (Goal number 2.5) | 1.51 2-0 ✅
▶ 34991 H | Milan Urban – M. Svedik | Milan Urban (Match winner) | 1.57 3-1 ✅
▶ ▶ ▶ Result: 2.37 ✅ ✅ ✅
Reliable sports betting tips are waiting for you in the Time – Out Premium group. 
---
🧲 MONEY MAGNET:
The month of January was not easy in the Pénzmagnes Premium group either. We handled the blows well. We gave and received slaps, but all in all, it's all good that ends well. We closed the first month of the year with a profit of HUF +129,300 and in the meantime exceeded the dream limit of HUF 6.3 MILLION earned since the start. To be precise, we are already at +6,328,600 HUF! 
When the group started, the plan was to bring in the highest possible income for Pénzmagnes subscribers. Thus, after 30 months, I can proudly say that this plan was fully implemented. The Pénzmagnes Premium group already has more than HUF 6,300,000 in prizes, to the great delight of its subscribers. You can access Pénzmagnes statistics here: https://tippmixtippek1x2.hu/penzmagnes/penzmagnes-statisztika/
---
⚽ BLUE CHIP: 
We are also saying goodbye to January in the BLUE CHIP Premium group with a hit-and-miss coupon idea. Since January, we closed with 84.34% tip efficiency! This was another very serious month!
Would you like to play with professionally developed high-stakes football betting tips? Then come to the Blue Chip Premium group.
---
Today's betting tips and betting tickets are also being prepared.
Don't leave it to chance!
With 32 years of experience behind me, I think I can rightly say that: Sports betting is much easier with us!
Look at the potential of football betting tips from a completely new perspective! Sports betting, if done right, is far from gambling, but rather a short-term investment, just like a day trade on the stock market! 
Forget your favorite soccer team and look at the options and events offered as a market! Our experts find the underrated teams, so you can profit with their sports betting tips!
We don't believe in luck! 
We believe in hard and persistent work!
Join us now for real Premium betting tips and coupon ideas!